Garcetti Pledges $1 Billion to End Homelessness, and Resources for Businesses as LA Re-Opens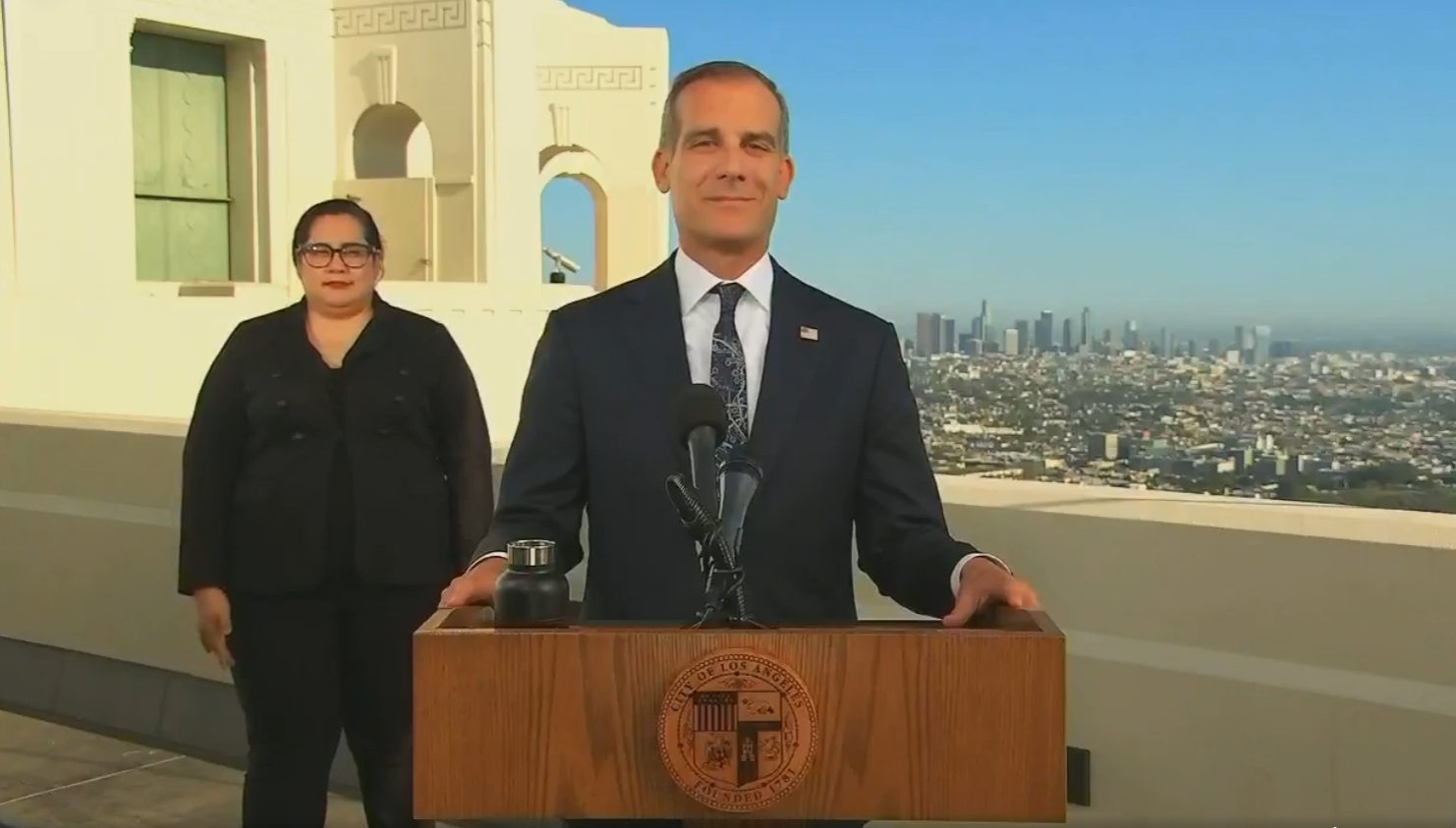 On Monday evening, Mayor Garcetti took the opportunity during the annual State of the City Speech to unveil the new City budget for fiscal year 2021-2022, and several significant proposals to combat homelessness and COVID-19.
Garcetti dubbed his 8th annual budget "a justice budget", focused on supporting communities and businesses heavily impacted by the pandemic and the ongoing recession.
To view the full speech, click here.
Homelessness and Anti-poverty
A flagship measure of the new budget involves allocating nearly $1 billion dollars towards ending the homelessness crisis.  
"To put that number in perspective — when I became mayor, we spent about $10 million on treating homelessness", said Mayor Garcetti.
The funds will support the expansion of housing supply, and increase the number of outreach workers. Additionally, the Mayor called upon the federal government to declare housing as a right and to fund Section 8 housing vouchers.
The budget also includes anti-poverty proposals to support low-income households and prevent new developments in homelessness. In particular, $24 million will be budgeted to provide monthly $1000 paychecks to 2,000 families every month.
COVID-19 and Business re-entry
The budget will continue to immediately address COVID-19 by allocating $75 million for vaccines, testing, and additional PPE equipment.
And, the Mayor will also request permanent COVID-19 memorials to be placed throughout the city to archive those lost and impacted by the pandemic.
Looking forward, the budget will aim to support businesses and establishments as the economy begins to re-open. Some notable measures include:
Reduce the time it takes to secure an alcohol permit by 90%, and reduce the cost by 70%.
$2 million in grants to support a permanent outdoor dining program
Suspend off-site parking requirements, which could save restaurants upwards of $10,000
Permit restaurants to defer up to $8,000 of expiring fees for three years.
Allocate $25 million towards a program to provide 5,000 businesses with $5000 comeback checks.
Furthermore, the City will continue to expand the LA Optimized program to continue connecting small businesses to the digital world.
To view the highlights of the proposed budget, click here.
Subscribe to Our Newsletter