Writers Guild of America Members Begin Strike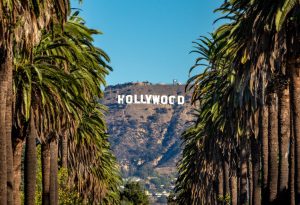 Writers Guild of America union members have officially begun a strike after not being to complete a deal with the Alliance of Motion Picture and Television Producers. 
The over 11,000 writers on strike will likely put the entertainment industry to a halt and have effects all around Los Angeles County. 
Why did a Strike Happen? 
WGA has been negotiating with the Alliance of Motion Picture and Television Producers, a group that includes Netflix, Sony, Discovery-Warner, and more, but was unable to strike a deal. 
The union wants higher compensation and residuals for writers, among other demands, in a new age of multimedia. With interest in streaming increasing and traditional outlets for television and movies moving in the opposite direction, WGA wants a contract that reflects that. 
In total, the proposal from WGA includes: 
6%-5%-5% for all minimums including residuals

Higher-budget streaming movies include higher compensation and residuals 

Regulate the use of artificial intelligence by not allowing it to write or re-write scripts or be used as source material 

Increase minimum weekly pay by 25% for co-producers and above 

For the full list, 

click here

 
According to the WGA, many of their proposals were rejected without a counteroffer. The lack of agreeance between the two parties led to nearly 98% (highest ever) of voting members authorizing a strike weeks ago. 
While WGA members authorized a strike in 2017, they were able to complete a new contract in time to avoid going through with it. 
This is the first time writers have struck since 2007, causing Hollywood to shut down for 100 days. 
Response from Studios
The Alliance of Motion Picture and Television Producers responded to the strike by stating that they had offered "generous increases in compensation." The group maintained that they are still open to negotiations with WGA. 
According to Deadline, many insiders have different thoughts about the potential of a new deal anytime soon. While some believe that there is optimism following the last offer from AMPTP, others feel as if the two sides are too far apart for a new contract any time soon. 
One source was quoted saying, "The studios could make a deal now on residuals… they don't want to, they want a strike…" 
Regardless of how long the strike with WGA lasts, the Alliance of Motion Picture and Television Producers have a lot on their plate in the coming works. The group's contract with the Directors Guild of America is set to expire at the end of June with negotiations expected to begin May 10th. 
Effect of the Strike
Despite it being recent, the strike has already had huge effects on the entertainment industry. Late-night shows such as "Saturday Night Live," "The Late Show with Stephen Colbert," and "The Daily Show" will air re-runs. 
However, a writer's strike affects more than just the entertainment, it impacts the Southern California economy as a whole. In 2007, the WGA strike cost the LA economy an estimated $2.1 billion. 
The industries hit hardest are commercial spaces where movies and television shows film, and small businesses where studios rent equipment from. Even before the strike authorization, they were impacted. One small business owner told ABC7 that his company experienced a 40% decrease in revenue this year because of the potential of a strike. 
While nobody has an end date for the WGA writer's strike, we'll make sure to update you on any progress.
Until then, keep up with BOMA on the Frontline for the latest news in Greater Los Angeles. 
Subscribe to Our Newsletter