Curren Price Elected as City Council President Pro Tempore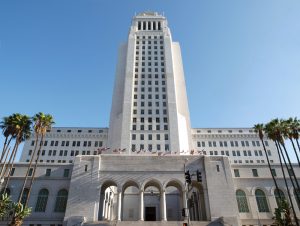 Councilman Curren Price has been elected to serve as the LA City Council's next president pro tempore, following an 11-0 vote by his fellow councilman. 
The president pro tempore is second in charge in the council. The position was previously held by Mitch O' Farrell. 
Although Price was interested in being council president after Nury Martinez resigned, his colleagues elected Paul Krekorian to the position in a 10-0 vote. 
Who is Curren Price?
Curren Price is a Los Angeles City Councilmember who has represented LA's 9th district since 2013.
He first entered public life when he was elected to the Inglewood City Council in 1993. He held that seat until 2006 when he was elected to the California State Assembly.  
In addition, he served as a California State Senator from 2009 until he joined the LA City Council. 
On the council, he chairs the Economic Jobs and Development Committee. He helped secure $4 billion in private funding for major projects such as the Banc of California Stadium and renovations to the Los Angeles Memorial Coliseum. 
Price has also worked to help solve the city's biggest issue, homelessness. In the past three years, Price has approved over 3,000 affordable and homeless housing. He has created 419 beds in his district and plans to add an additional 766 beds by next summer. 
The new president pro tempore has a lot of work to do to help restore the city's faith in the city council. His election was surrounded by chants of "shame on you" due to Kevin de Leon and Gil Cedillo not resigning. 
Thus, it's clear that there is still a lot to be done to rebuild the trust in the council. 
BOMA Greater Los Angeles congratulates Council President Pro Tem Curren Price on his new position and wishes him success. 
To stay updated on the Los Angeles City Council, keep up with BOMA on the Frontline.
Subscribe to Our Newsletter