Paving the Way: Preparing Your Parking Lots for Safe Re-entry
The COVID-19 outbreak and the subsequent Stay Home Orders have left many building owners feeling stuck between a rock and a hard place. It has been a bad situation for everyone but it is time for building owners to start paving the way for their tenant's safe return to their offices.
According to the parking software company Smarking, interest in parking is growing in sectors that relied on public transit pre-pandemic. Building owners may expect an eventual surge in parking demand, which means more parking lot use.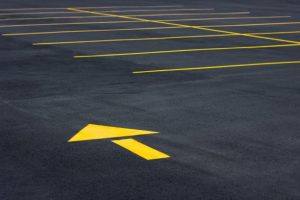 Here are a few things building managers can do to prepare their parking lots, limit their injury liability, and prepare for the ongoing phased re-entry.
Prepare Your Parking Lots for Increased Traffic
Ensure safe building operations, better protect workers, visitors, and customers by completing needed repairs to your parking lots. You have a unique opportunity to perform essential work and repairs while your parking lots are still mostly vacant. Less cars on the lot means work can be completed in less time which adds up to enhanced savings down the road. Contact your parking paving partner for a parking lot inspection as soon as possible.
Decrease Your Liability
Now is also a terrific time to decrease your liability and fix those things you have been meaning to fix before your tenants return to the building and someone potentially gets hurt. Potholes, uneven concrete, and faded lot marking are trip and fall hazards. With your lot repaired and your building prepared for safe re-entry you can revel in something that few commercial property owners are likely to experience in the coming days, peace of mind.
Partner with a Reliable Paving Company
Some paving companies are fortunate enough to have remained working during this pandemic. Make sure your parking lot paving partner has a fully dedicated leadership team and staff working tirelessly to ensure that their IT infrastructure is sound, secure, and able to function under the increased strain of staff working from home.
Successful parking lot paving companies should be able to service their clients with the same efficiency and reliability as they always have, only now with greater commitment and perspective.
Maintain Social Distancing
As we move into the stages of phased re-entry, commercial property owners are reminded to not only practice social distancing but also implement measures that make social distancing easy and intuitive for staff and guests visiting their buildings. Pavement markings in parking lots can be added to comply with social distancing guidelines where valet lines or elevator lines are formed.
Increase Your Peace of Mind
Now that re-entry has begun, there is light at the end of the tunnel. Let's work together to put measures in place that keep tenants, staff and customers safe. Having your parking lot repaired as part of your building re-entry plan, can give you peace of mind. Be sure to have your work done now while schedules are more flexible.
This guest blog post was provided by Joe Lewis, Account Executive, Rose Paving.  Rose Paving is a premium asphalt and paving company with more than 40 years of experience in asphalt, asphalt repair, paving, sealcoating and cracksealing. Visit www.rosepaving.com to learn more about their services.
Subscribe to Our Newsletter