What Best Practices and Technologies Are You Implementing to Ensure You Have A Healthier, More Productive, & More Efficient Building?
EMCOR Services Mesa Energy Systems offers a full suite of indoor air quality (IAQ) solutions that promote occupant health and comfort while helping to improve energy efficiency and increase the longevity of critical assets like HVAC equipment. Our IAQ services can also be part of a certification process for the UL Verified Healthy Buildings Program.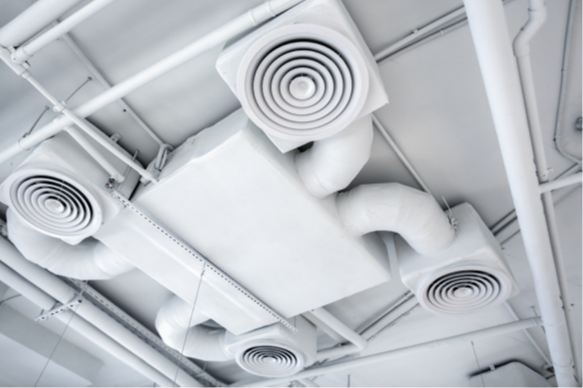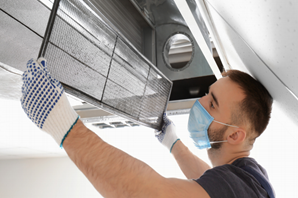 Ventilation Testing and Calibration
We can verify that systems and equipment are calibrated correctly and delivering proper ventilation.
» Engineering analysis for ventilation compliance
» Retro-commissioning, testing, and repairing of ventilation equipment
» Air balancing to calibrate proper ventilation airflows
Building Advice IAQ Testing
We can perform several tests to ensure that buildings with tenants or visitors have ideal air quality in occupied spaces.
» IAQ health reports to measure contaminant levels, including CO2, volatile organic compounds, particulates, and other pathogens
» Over-ventilation reports help maintain the right balance of energy and IAQ
Needlepoint Bipolar Ionization (NPBI)
Our patented NPBI product emits ions that can kill pathogens, breakdown harmful compounds, and accumulate micro-particles into large filter- able particles.
» Installation services for existing equipment
» Installation services for new equipment, including air handling units, fan coils, package units, and water source heat pumps
» Ongoing maintenance for NPBI product
» Ionization alarm or ion room sensor tie-in for direct digital control
» Local ion readings to help ensure ion counts are maintained in targeted spaces
Our building automation professionals can setup your building controls to monitor for health and comfort.
» Set up and calibrate air quality sensors
» Regularly check and maintain calibration for temperature and humidity sensors
Leveraging the latest in UV-C technology, we can help you keep your air coils clean and dis- infected.
» Installation and maintenance from certified professionals
» Annual bulb replacement services
» Verification of proper controller operation
Beyond ventilation and air cleaning, we also offer disinfection services and duct cleaning.
» Certified sanitization process for surfaces
» Regular disinfection routines with certificate of service
The above recommendations establish a solid foundation for any building owners and operators serious about improving their indoor air quality. In collaboration with your trusted HVAC provider, you can implement these best-practices and technologies to help ensure your mechanical system is prepared for the current crisis and what lays beyond.

This guest blog post was provided Emcor Services Mesa Energy Systems. Visit https://www.mesaenergy.com/ to learn more about their services.
Subscribe to Our Newsletter