LA County Board of Supervisors backs Mayor Bass' State of Emergency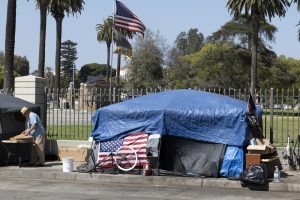 Last December, the Los Angeles County Board of Supervisors voted unanimously to support Mayor Bass' state of emergency of homelessness. 
Bass made an appearance at the meeting and stressed the importance of the city and county working together on this issue. 
This is a stark change from the past as the two branches have had a tumultuous relationship on this issue. 
What's in the State of Emergency? 
On her first day of being Mayor of Los Angeles, Karen Bass declared a state of emergency on homelessness. 
Through the declaration, she plans to use the full arsenal of city resources to combat the crisis. Her declaration inspired other cities such as Long Beach to also call a state of emergency on the issue. 
Since her announcement, Mayor Bass has launched Inside Safe, which plans to temporarily move the homeless into hotels and motels. 
The initiative will use master leasing which will allow the city to rent multiple units of a property. The plan is estimated to cost under $100 million. 
Due to the declaration, affordable housing projects will be approved within sixty days, rather than the usual six to nine months. Thus, the voluntary relocation of those experiencing homelessness is temporary. 
The Relationship between LA City & County 
The relationship between the county and the city has been strained for some time due to the homelessness crisis. 
The lack of improvement from both sides on the issue led to the branches getting sued. 
Los Angeles City felt like the county wanted to blame them for the homelessness crisis. The county saw Skid Row and areas similar as the focal points of the issue, which made them believe they shouldn't have even been a defendant in the case. 
This caused a dispute between the two and a lack of partnership when it comes to dealing with homelessness. 
It's encouraging to see the Board of Supervisors back Mayor Bass' state of emergency.
For the latest news on homelessness, keep up with BOMA on the Frontline.
Subscribe to Our Newsletter