Mayor Bass Declares a State of Emergency on Homelessness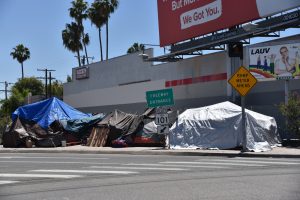 On her first day in office, Los Angeles Mayor Karen Bass officially called a state of emergency on homelessness. 
During her inauguration, she announced that she will begin her term at the city's Emergency Operations Center to declare a state of emergency.
On Tuesday, the Los Angeles City Council unanimously approved the state of emergency, granting the city full power to address homelessness. 
What will the State of Emergency Do?
A state of emergency is called amidst a crisis and allows the government to expedite policies and access funding to assist with an issue. 
Mayor Bass stated that her declaration will "recognize the severity of our crisis and break new ground to maximize our ability to urgently move people inside". 
In her speech on Sunday, Bass pledged to put 17,000 people experiencing homelessness in interim or permanent housing. 
The declaration should allow for better communication between city services and departments, get people off the streets, and build housing quicker. 
While details haven't been released on how they plan to act, it's a good sign that action will come sooner than later.
Why is this Important?
Homelessness in Los Angeles has been a crisis for years, and for legislators and the general public, it appears to have finally reached a call to action. 
After many failed attempts at making progress toward ending homelessness, it is evident that this is the main priority for lawmakers in the city. 
Los Angeles currently hosts nearly 42,000 homeless people, with the county at almost 70,000. 
In addition, there has been a vast increase in RV encampments with a 41% increase since 2019. 
Mayor Bass and the Los Angeles City Council must act swiftly to help with the homelessness crisis. By calling a state of emergency on the issue, it shows they are trying to do just that. 
For the latest news on the homelessness crisis, keep up with BOMA on the Frontline. 
Subscribe to Our Newsletter