LA City Council Recommends Motion to Address RV Encampments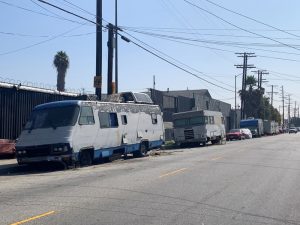 The Los Angeles City Council has recommended a motion that will look to rehouse people experiencing recreational vehicle (RV) homelessness. 
Although this year's homeless count suggested that homelessness has slowed down, RVs used as encampments have rapidly been increasing. 
From 2019 to 2022, there was a 41% increase in the number of RVs on the streets of Los Angeles. 
What is in the Motion? 
The Los Angeles City Council is directing the City Administrative Officer to organize a re-housing strategy within 60 days that addresses those experiencing recreational vehicle homelessness. 
The project will be in conjunction with the Los Angeles Homeless Services Authority and the LA Department of Transportation. 
The comprehensive strategy must include the following: 
Identifying and securing interim shelter and housing for those living in RVs 

Creation of incentives for voluntary relinquishment of RVs used as dwellings  

Identifying and securing short-term storage lots for RVs if the owner wishes to keep the vehicle 

Expanding 

Safe Parking

 programs to include oversized/larger RVs in 24-hour Safe Parking Programming 

Demolishing RVs after the owner moves into interim or permanent housing with the consent of the owner 

Leveraging case management from sanitation outreach/City-funded generalist outreach teams for people living in RVs, with a focus on strategies for working with people living in RVs

Necessary budgeting and staffing resources to implement the strategy 
In addition, the City Administrative Officer will apply to the State of California to see if LA can receive an Encampment Resolution Funding grant to support the program. 
Both of these actions have a 60-day timeline.
Why is this Important? 
Strategizing a safe and effective way to get rid of RVs on the streets of Los Angeles is hugely important, especially for commercial real estate. 
RV encampments parked in front of commercial properties are seen as unattractive by potential tenants and customers, which severely hurts business. 
In addition, recreational vehicle encampments are strongly correlated with an increase in crime. Earlier this year, the LA County Sheriff's Department reported a 68% increase in calls about crime in areas around RV encampments. 
Since the 2010s, RV encampments have been getting more popular amongst the unhoused population. However, the COVID-19 pandemic slowed much of the work that attempted to fight it. 
An ordinance that banned living in recreational vehicles expired in early 2020 and was not renewed. During the pandemic, the city placed a moratorium on towing unlicensed RVs. The moratorium was only just lifted this past April. 
Regardless, it is good to see the city taking action against RV encampments, as we all hope to see progress soon. 
To learn more about ways to address encampments, or how to get involved with our broader efforts to combat homelessness, email advocacy@bomagla.org. 
To stay up to date with the latest news on the homelessness crisis, keep up with BOMA on the Frontline.  
Subscribe to Our Newsletter