LA County Reaches Settlement Over Homelessness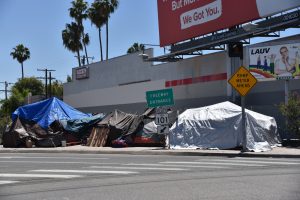 On Monday, the County of Los Angeles announced they had settled a lawsuit against them that will provide millions to help the homeless population. 
Although the City of Los Angeles had agreed to settle the lawsuit in April, the rest of the county was not on board. As a result of their change of mind, the settlement will drastically increase the amount delegated to providing services for homeless people. 
What was the Lawsuit? 
In March 2020, The LA Alliance for Human Rights filed a lawsuit against the city and county of Los Angeles. 
The organization alleged that they had not taken the proper actions to prevent and treat the "alarming rate of homelessness…"
The case lasted the entirety of the pandemic until the City of Los Angeles was willing to settle this Spring. However, the County of LA was unwilling to join the settlement. 
The disagreement set off a massive dispute between the two bureaucracies. 
The county felt that the case was primarily focused on Skid Row, a homeless hub in the City of Los Angeles. Therefore, they believed they should not have been a defendant in the case at all. 
However, the county agreed to join the settlement on Monday, which means the investment into housing and services for the homeless will be more expansive than before. 
What's in the Settlement? 
In June, the City of Los Angeles proposed a settlement that made them pay $3 billion in homelessness services. 
The $3 billion will pay for nearly 16,000 beds over the next five years to house non-mentally ill homeless Angelenos. 
In addition, both parties agreed to let the court remain involved so the money is adequately spent and enforced.
If successful, the beds will take a quarter of the homeless population off the streets. 
The County of LA's offer is $236 million dedicated to homeless services in the next five years. 
LA County Supervisor Holly Mitchell announced that $74 million of that will go to engagement services, while the remaining $162 million will be for permanent housing. 
While it's long overdue that the city and county of Los Angeles got serious about solving the homelessness crisis, funding hasn't been the problem.
However, mismanagement of the funds and mishandling the problem have only worsened the issue. 
Regardless, the city appears to be looking to get homelessness under control before the 2028 Olympics. 
To follow updates about the homelessness crisis in Los Angeles, keep up with Boma on the Frontline. 
Subscribe to Our Newsletter