Mayor Bass rolls out Plan to move Homeless into Hotels & Motel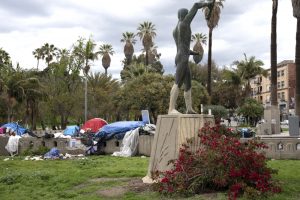 On Tuesday, Mayor Bass officially launched a new program called "Inside Safe". The initiative will move people from encampments into hotels and motels. 
Last week, she declared a state of emergency on homelessness which allows her to tap into further resources to address the city's growing crisis. There are currently 41,980 homeless people in Los Angeles, a minute increase from 2020. 
What's in the Plan? 
While official details have yet to be released for the plan, the program intends to move people from encampments into hotels and motels. 
To accomplish this, Mayor Bass will use master leasing. It is a form of leasing that allows tenants to rent multiple properties of a landlord under a single lease. 
Those in encampments will have to voluntarily decide to move as they will not be subject to sweeps or incarceration. 
Mayor Bass has stated that the program will cost less than $100 million. 
In addition, the program is expected to only be temporary as the city builds more affordable housing. 
The state of emergency allows for housing projects built that will tackle homelessness to be expedited. Affordable housing projects will be approved within 60 days rather than the six to nine months that it usually takes. 
Mayor Bass has pledged to get nearly half of the homeless population indoors in her first year of being mayor and has high hopes that Inside Safe will help her accomplish that. 
2024 Election
In 2024, voters will decide if hotels and motels are required to rent rooms to the homeless. 
The ballot measure has been subject to much criticism, particularly from former City Councilmember Joe Buscaino. 
He claimed that it will turn hotel workers into "social workers" and hurt tourism in a "time where we are getting ready for the 2028 olympics". 
In regards to the Mayor's Inside Safe Program, it doesn't appear that there is any requirement for hotels/motels to rent their rooms if they don't wish to. 
To stay updated on the latest about the homelessness crisis, keep up with BOMA on the Frontline.
Subscribe to Our Newsletter