Voters to Decide Whether Hotels must Rent Vacant Rooms to the Homeless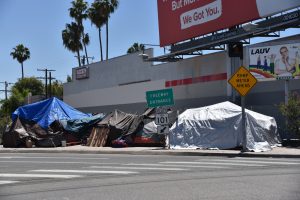 In 2024, voters will have the opportunity to vote on whether hotels should be required to rent vacant hotel rooms to the homeless. 
In what is being described as one of the most controversial bills the state has seen, the LA city council voted 12-0 to send it to the 2024 ballot. 
The hotel industry suffered through the pandemic as travel was extremely limited and a bill that puts guests next to homeless people can hurt the industry even more. 
What's in the Measure? 
The Los Angeles Responsible Hotel Ordinance would make it so all Los Angeles hotels, whether a Motel 6 or Ritz Carlton, would be required to rent vacant rooms to homeless people. 
Hotels would be required to submit the count of vacant rooms every day at 2 PM to the city housing department, and accept vouchers for renting the room. 
The vouchers would be worth a "fair market rate", which is presumably decided on a hotel-to-hotel basis. 
While the writers of the ordinance expect to get funding for these vouchers from local, state, and federal sources, it is still unclear how they will get funding. 
The voucher system has until July 1, 2023, to find a funding source and is contingent on being funded by that date. 
The ordinance would also require developers who are tearing down old housing to build an equivalent amount of affordable housing units in the same or surrounding area. 
Responses 
The Los Angeles Responsible Hotel Ordinance has received overwhelming backlash from many different stakeholders. 
Councilman Joe Buscaino was very critical of the ordinance, claiming that it will make hotel employees into "social workers". 
In addition, he stated that it also "hurts our tourism industry… in a time where we are getting ready for the [2028] Olympics…"
Buscaino has been on the council for ten years and calls this ordinance "the dumbest measure" he's seen during that time.
Another concern with this ordinance revolves around insurance covering hotels. 
The risk of insurance companies pulling insurance from hotels is quite high, as there is much more liability at stake if this ordinance passes. 
Allowing the homeless population to rent rooms next to traditional guests, could drive away paying guests and heavily decrease the tourism industry in Los Angeles. 
Click here if you want to read the full ordinance. 
To stay updated about upcoming ballot initiatives, keep up with Boma on the Frontline. 
Subscribe to Our Newsletter