Former Mayor Eric Garcetti Confirmed by Senate as Ambassador to India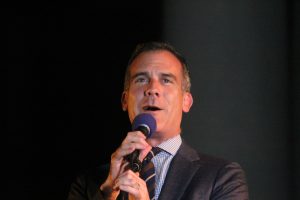 Eric Garcetti's nomination to be the US ambassador of India has been confirmed by the senate after years of pushback. 
The former Los Angeles Mayor was first nominated by President Biden in 2021 and re-nominated in January of this year. 
The Vote
The vote to confirm Garcetti was 52-42 with seven Republicans in support and three Democrats opposing his nomination. 
The seven Republican Senators that supported his nomination were: 
Lindsey Graham (South Carolina) 

Bill Hagerty (Tennessee) 

Susan Collins (Maine) 

Steve Daine (Montana)  

Todd Young (Indiana) 

Roger Marshall (Kansas) 

Bill Cassidy (Louisana) 
On the other hand, the three Democratic Senators that opposed his nomination were: 
Mazie Hirono (Hawaii) 

Sherrod Brown (Ohio) 

Mark Kelly (Arizona) 
While other Democrats such as New York Senator Kirsten Gillibrand were holding out on voting for him, the Senate Foreign Relations Committee advancing Garcetti assured confidence. 
Why did it Take so Long?
Following his nomination, concerns over an allegation of sexual harassment by Garetti's former aide came to light. 
Although Garcetti denied knowledge of the alleged behavior, his nomination was immediately put on hold by Senator Joni Ernst. 
Subsequently, Senator Chuck Grassley released a report on his investigation of the allegations. 
He concluded that "more likely than not that Mayor Garcetti either had personal knowledge of the sexual harassment or should have been aware of it." 
In December 2022, Grassley pleaded for his fellow Senators to vote against his nomination in a speech on the Senate floor.
What's Next?
Garcetti's nomination concludes his two-year-long fight to become the United States Ambassador to India. It is the longest the American Embassy there has been without an ambassador. 
Senators such as Todd Young expressed displeasure in this, stating "it has become a grave national security concern of [his]." 
Having an ambassador in India is vital for many reasons including China, Russia, and advancing Indian-US relations. 
The United States, India, Australia, and Japan have developed a stronger allyship as members of the "quad". A partnership was formed to commit to establishing a free and open Indo-Pacific region. 
This makes Garcetti's confirmation vital to advancing relations in the region. 
For the latest news in the Greater Los Angeles area, keep up with BOMA on the Frontline. 
Subscribe to Our Newsletter