BOMA/GLA Remembers Real Estate Visionary, Nelson Rising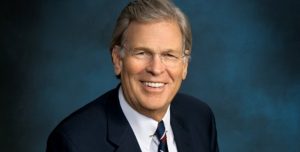 Leading commercial real estate executive and BOMA/GLA member Nelson Rising passed away on February 9 at the age of 81.
Most recently, Nelson Rising served as the Chairman and CEO of Rising Realty Partners.
Nelson was born in Queens, NY, and moved to Glendale as a child.
He spent three years serving his country in the Marine Corps before attending UCLA on a football scholarship.
Nelson began his career in real estate when he took the position as President of the Cata de Caza Resort in Orange County.
Yet his impact would soon expand well beyond a 5,000-square-foot resort to some of the biggest real estate developments in Los Angeles and San Francisco.
As his career grew, Nelson would eventually lead the Library Square development in Downtown Los Angeles, which included the construction of the U.S. Bank and Gas Company Towers.
Nelson put Los Angeles on the map for some of the biggest global tech companies through the development of Playa Vista, often referred to as "Silicon Beach," and the redevelopment of San Francisco's Mission Bay.
Nelson was also a leading figure in state and local politics.
While building his career in real estate, he took a leave of absence to manage Tom Bradley's first successful campaign for LA Mayor. He later managed Bradley's campaign for Governor of California.
Nelson Chaired the San Francisco Federal Reserve Board and was a lifetime trustee of the California Institute of Technology.
He was known as a supremely effective advocate for business and economic development and had a unique ability to bring the private and public sectors together to advance meaningful policy changes.
As Chairman and CEO of Rising Realty Partners, Nelson oversaw some of the most iconic buildings across LA County's skylines, including 1Cal Plaza, Catalina Landing, and The CalEdison DTLA among others.
In that capacity, Nelson was a leading supporter of BOMA/GLA with his property managers still serving at the highest levels of leadership within the association.
Nelson is survived by his wife of 59 years, Sharon, and his sons Christopher and Matthew.
He was a transformational figure for Los Angeles and will be dearly missed.
Subscribe to Our Newsletter