Meet the Candidates Running for Council District 6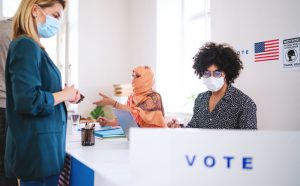 On April 4th, Los Angeles will be holding a special election to decide who will replace the seat formerly held by City Council President Nury Martinez. 
This comes months after her resignation over a leaked recording that revealed her saying racist comments and berating colleague Mike Bonin. 
So, who is running for the open city council seat? 
Meet the Candidates
Seven candidates are running to be the next city council member for District 6. 
Below are the candidates: 
Isaac Kim

Imelda Padilla 

Rose Grigoryan 

Marisa Alcaraz 

Antoinette Scully 

Douglas Dagoberto Sierra 

Marco Santana 
Isaac Kim is the owner of Pilot Men's Grooming, a men's skincare company. In addition, he also founded a small business to provide those experiencing homelessness with soap and hot showers. 
He decided to run to regain public trust after the leaked audio tape featuring former City Council President Nury Martinez. His main goals include transparency, improving digital and physical infrastructure, immigration, the environment, homelessness, and public safety. 
Imelda Padilla is a community relations manager and the current president of the Los Angeles Valley College Foundation Board. 
This is not her first time running for public office as she unsuccessfully ran for a seat on L.A. Unified Board in 2016. Her main priorities, if she is elected, are homelessness, public safety, economic development, built environment, parks & recreation, libraries, and youth programs. 
Rose Grigoryan is an activist who works for the largest Armenian television network in the United States. 
During the pandemic, she educated people about issues happening in their community. She is seeking the city council seat to serve her community at a higher level. 
Marisa Alcaraz is the deputy chief of staff and environmental policy director for District 9 City Council Member Curren Price. 
In her position, she has been an architect in LA's guaranteed basic income program, worked on a homeless prevention program and helped raise the minimum wage. She has vast experience working with the council dating back to 2009. 
Antoinette Scully is a community activist and works as a National Organizer for the Unitarian Universalist Women's Federation. 
She is running to bring care to the residents of District 6. Her main priorities are ending homelessness, more frequent transit, transitioning from fossil fuels, and resources for the community. 
Douglas Sierra is a business consultant and a non-profit leader. 
He is running because he feels Council District 6 has been left voiceless, and to create opportunities for future generations. His main priorities are education, housing affordability, homelessness, transportation, health & wellness, public safety, and economic prosperity. 
Marco Santana is the Director of Engagement at LA Family Housing, a nonprofit that connects those experiencing homelessness to housing and services. 
He is running because he feels that Council District 6 has been forgotten by the City Council in recent years, and that new leadership is needed. He has experience working in California politics as he served as a staffer for Congressman Tony Cardenas and State Senator Bob Hertzberg.  
The Election
The special election to choose the next city councilman from District 6 will take place on April 4th with mail-in ballots being sent out on March 6th. 
If a candidate does not receive a majority of the votes, a runoff election will happen on June 27th. 
For the latest news in Greater Los Angeles, keep up with BOMA on the Frontline.  
Subscribe to Our Newsletter