LA City Council to hold Special Election for District 6 Seat held by Nury Martinez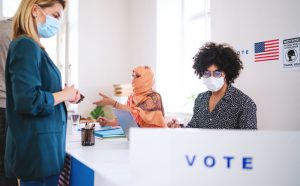 On April 4, 2023, the Los Angeles City Council will hold a special election in District 6 to replace Nury Martinez. 
Martinez resigned in October after a leaked conversation revealed her saying racist comments and berating colleague Councilmember Mike Bonin. 
In their first in-person meeting since the news broke, the council voted unanimously to go forth with the special election. 
What's Happening in the Meantime? 
Since her resignation, Councilmember Paul Krekorian was voted by the council to take over as president. 
In District 6, Sharon Tso, Los Angeles' Chief Legislative Analyst, will take over as the district's caretaker until the special election.
However, she doesn't have a seat on the council and cannot vote on policies. Instead, she is there to respond to constituents and handle day-to-day functions. 
While the Budget and Finance Committee is discussing the funding for the election, the City Clerk's Office estimates it will cost up to $7.65 million. That includes a runoff election, if necessary, that would occur on June 27th. 
District 6 covers parts of the San Fernando region, and those interested in the seat will have until December 12th to file for candidacy. 
As for the other members involved in the scandal, they both chose not to resign. 
Amid calls for resignation, Councilmember DeLeon plans to continue serving his term which ends in 2024. 
On the other hand, Councilmember Cedillo lost his re-election bid to activist Eunisses Hernandez in the June primaries. Thus, his term will end in December. 
Stay updated with BOMA on the Frontline to keep up with the latest news on the Los Angeles City Council. 
Subscribe to Our Newsletter