Karen Bass and Other Newly Elected Officials Sworn into Office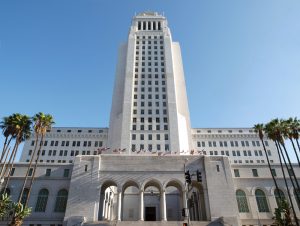 It is a new day in Los Angeles as the newly elected officials were sworn into office this past Sunday. 
They will face an array of challenges currently affecting the city including a homelessness crisis and a high crime rate. 
Below is a wrap-up of yesterday's event and a look toward the future as a new group of leaders take over in Los Angeles. 
Mayor of Los Angeles 
Los Angeles Mayor Karen Bass was officially sworn into office and became the 43rd mayor in city history. 
Her groundbreaking win in the 2022 midterm elections made her the first woman to be mayor of Los Angeles.  
Her inauguration featured other California women who shattered the glass ceiling. Those in attendance include Vice President Kamala Harris (first female VP), Senator Toni Atkins (first female Senate president pro tem), and Lt. Governor Eleni Kounalakis (first female Lt. Governor).
Bass took over the position on Monday at 12:01 AM and will have her work cut out for her as she navigates through a controversial city council, a homelessness crisis, and public safety concerns. 
BOMA/GLA wishes her success in her new position and is looking forward to working with her in the upcoming years. 
Other Elected Officials
Outside of Mayor Bass, newly elected City Attorney Hydee Feinstein Gil and City Controller Kenneth Meija was also sworn in this weekend. 
They will play a huge hand in how successful this new crop of Los Angeles leaders can potentially be. 
In Los Angeles County, newly elected Lindsey Horvath was sworn in last week to her position as District 3 Supervisor. At 40, she is the youngest woman to be on the LA County Board of Supervisors. 
Her responsibilities grow as she now represents almost 2 million people, versus the 35,000 she represented as West Hollywood City Councilmember. 
In regards to the sheriff, the newly elected LA County Sheriff was sworn in last week. The former Long Beach Police Chief steps into the position amid crime concerns, a lack of public trust, and a fractured relationship between the Board of Supervisors and the Sheriff's department. 
BOMA/GLA wishes all the newly elected officials success in their new positions and we are looking forward to working with them to assist with the city's biggest issues. 
To keep up with the latest news, stay tuned to BOMA on the Frontline. 
Subscribe to Our Newsletter