Get out and Vote! A Preview of the November 8th Election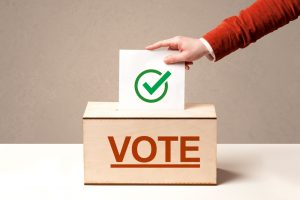 The 2022 Midterm Elections are officially a week away, and there is a lot at stake for Angelenos and the commercial real estate industry. 
The most consequential races for our industry are Measure ULA and Measure SP, which will both raise taxes on commercial buildings. 
Measure ULA would be the largest tax hike in city history, raising property taxes on the sale of any building sold for $5 million or more. This would raise prices for property owners and tenants. 
Property sales between $5 and $10 million would be taxed at 4%, and anything higher would be 5.5%. 
Measure SP is an 8.4 cent per square foot parcel tax that would be imposed on commercial and residential buildings. 
In commercial buildings, this could potentially increase your taxes by thousands of dollars. 
BOMA/GLA is strongly opposing these two measures as they would negatively impact our members. 
Here is a preview of the most important races to look at before November 8th. 
Statewide 
Governor: Republican State Senator Brian Dahle finished second in the June Primary and will face off against Incumbent Gavin Newsom. Newsom helms a large lead in polling and will surely be re-elected. 
Lieutenant Governor: Democrat Incumbent Eleni Kounalakis is running for re-election against Republican Angela Underwood Jacobs. Kounalakis received over 50% of the vote in the June Primary and will likely be re-elected to her position. 
Attorney General: Incumbent Rob Bonta will face off against Republican Nathan Hochman, after the latter secured second place in the primaries. Bonta received over 50% of the vote in June and is expected to be re-elected. 
Controller: Democrat Malia Cohen and Republican Stanford Professor Lanhee Chen will face off in an open race for City Controller. Chen came in first in the primary with 37% of the vote, albeit, still faces an uphill climb in a deep blue state. However, he has out-fundraised Cohen by a large margin. Cohen is expected to win, but this is a race to look out for. 
Secretary of State: Incumbent Shirley Weber will face off against Republican Businessman Robert Bernosky. Secretary Weber was appointed by Newsom when Sen. Alex Padilla left for the US Senate. Weber won over 60% of the vote in the June Primary election and is expected to win next week. 
US Senate: Alex Padilla was appointed to the US Senate after Vice President Kamala Harris began her new role. He now faces off against Republican attorney Mark Meuser in an election for a full term. The two men faced off in 2018 for California Secretary of State, a race that Padilla won by 29 points. Sen. Padilla received over 50% of the vote in the June Primary and is expected to cruise to victory next week. 
Los Angeles County  
LA County Sheriff: The battle for Los Angeles County Sheriff is a close one, with Incumbent Alex Villanueva facing off against former Long Beach Police Chief Robert Luna. Villanueva's term as sheriff has not gone without controversy, as scandals over police shootings and misconduct have plagued his tenure. 
In the June Primaries, Villanueva received 31% of the vote versus Luna with 26%. It showed that it was heating up to be an extremely close race. Since then, Luna has become the frontrunner. 
A poll by the LA Times in October found that 36% of voters plan to vote for Luna, with only 26% in favor of Villanueva. Another 36% were undecided. 
To learn more about this race, click here. 
Los Angeles County Supervisor (District 3): Democratic State Senator Bob Hertzberg is facing off against West Hollywood City Council Member Lindsey Horvath. Each candidate's camp expects a close result, with 47% of voters still undecided. 
BOMA/GLA has officially endorsed Senator Hertzberg as he would bring a lot of experience to the role. 
Los Angeles City 
Los Angeles Mayor: Democratic Representative Karen Bass is running against real estate developer Rick Caruso in the open Los Angeles Mayor's seat. Rep. Bass received 43.1% of the vote in the June Primary compared to Caruso's 36%. However, the race has tightened a lot more since then with some polls having Caruso in the lead. 
While Rep. Bass has gained high-profile endorsements from President Joe Biden and former President Barack Obama, Caruso has been working to expand his base.
Part of this has been done through a well-funded ad campaign. It's expected that he is on track to spend over $100 million of his own money on this election. 
City Attorney: Civil Rights Attorney Faisal Gill and Hydee Feldstein Soto are battling to replace City Attorney. Mike Feuer's.
Gill is a progressive who is looking to make major reforms, including not enforcing 41.18, a code that adds basic restrictions and rules to street encampments. 
His policy positions are potentially harmful to our industry, at a time when homelessness and public safety are Angeleno's biggest concerns. 
Gill finished a few points ahead in the primary election, but it is expected to be a very close race. 
BOMA/GLA has officially endorsed Hydee Feldstein Soto to be the next Los Angeles City Attorney. 
Feldstein Soto's vision is to root out corruption, protect our community, and improve the homelessness crisis.
Part of her mission in doing that is through providing shelter and streamlining the building approval process.
To read more about her priorities, click here.
City Controller: LA City Councilmember Paul Koretz is facing activist Kenneth Meija in the chance to be the next City Controller. 
Both candidates have prioritized transparency as a major issue.
While Koretz has focused on streamlining city processes, Meija wants to hold departments, particularly the LAPD, feet to the fire.
City Council: 
District 5: BOMA/GLA-endorsed candidate and attorney Sam Yerbi faces off against attorney Katy Young Yaroslavasky to replace Councilmember Paul Koretz. 

District 11: BOMA/GLA-endorsed candidate and attorney Traci Park is competing against attorney Erin Darling to replace Councilmember Mike Bonin. 

District 13: BOMA/GLA-endorsed Incumbent Mitch O'Farrell is facing off against union organizer Hugo-Soto Martinez.

District 15: BOMA/GLA-endorsed candidate and nonprofit executive Tim McOsker is battling Danielle Sandoval to take over Councilmember Joe Buscaino's seat. 
Long Beach 
Mayor: Long Beach Vice Mayor Rex Richardson is facing off against Long Beach City Councilwoman Suzie Price to be the next mayor of Long Beach. 
In the June Primary, Richardson narrowly led Price in a 42%-39% outcome. This race is expected to be very close. 
BOMA/GLA has officially endorsed Suzie Price to be the next mayor of Long Beach. 
Get Out and Vote!
The 2022 Midterm Elections are on November 8th, with early voting currently underway. There's a lot on the line for Californians and commercial real estate, so it's imperative that our industry gets out and votes. 
If you have any questions about these races, don't hesitate to contact our advocacy team at advocacy@bomagla.org. For the latest election news, keep up with BOMA on the Frontline. 
Subscribe to Our Newsletter