Metro Bus Lanes – A Risky Approach To Declining Ridership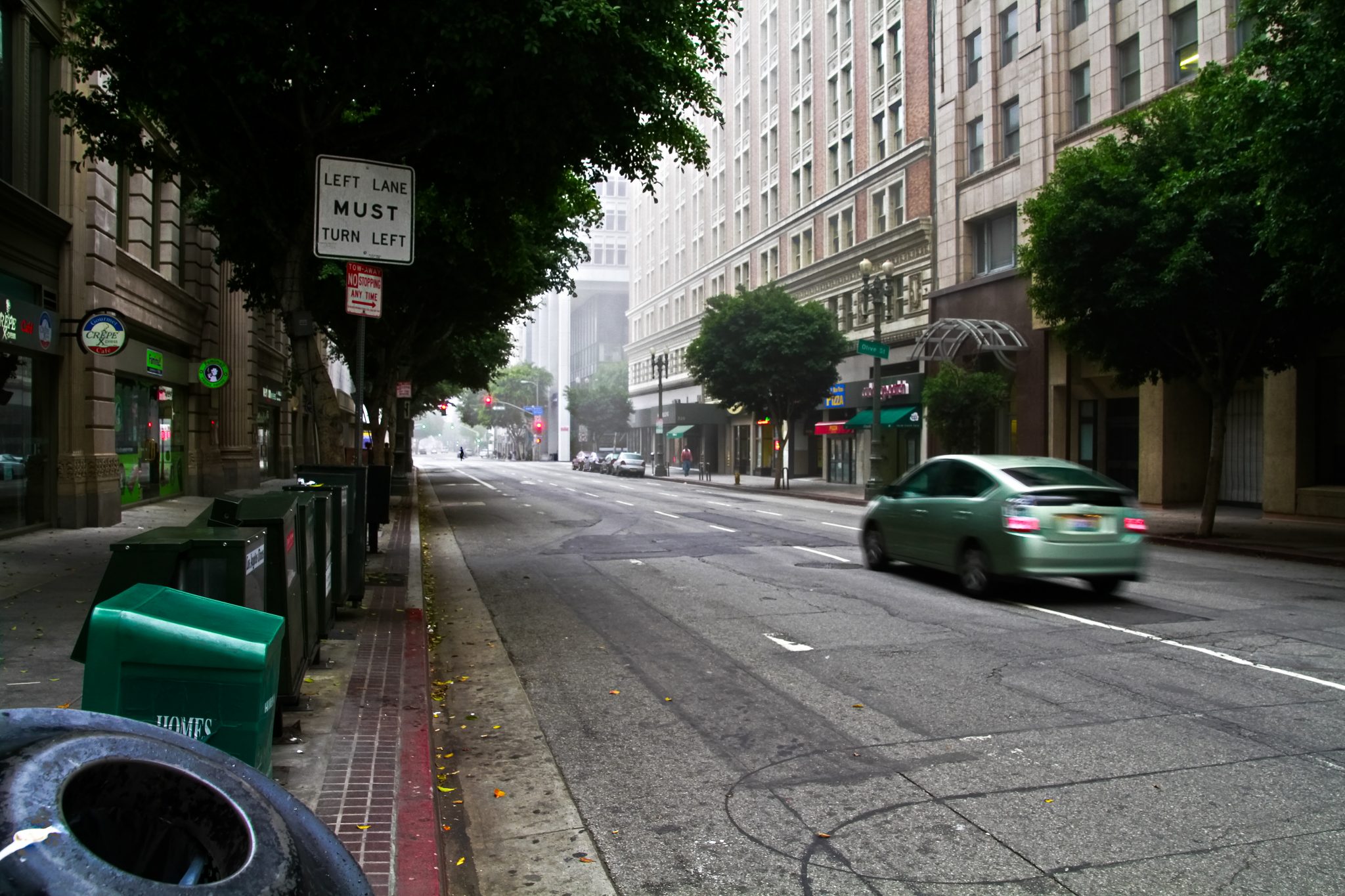 Metro, as part of its Vision Zero plan, is in the process of creating new bus-only lanes in major Los Angeles thoroughfares. Due to severe declines in ridership, these lanes seek to attract back those leaving the transit system.
Even low-income populations, who have historically depended upon public transportation, have begun transitioning out of the Metro system because of its questionable bus speeds.
While BOMA/GLA supports robust transportation systems, we are certainly cautious of disruptive bus-only lanes. If implemented poorly, these lanes would be surely linked to the worsening of congestion in Downtown Los Angeles.
Bus-only lanes have been underwhelming
For one, past bus lane programs have proved largely underwhelming, especially in dense metropolitan areas. In particular, we can look at the pilot program implemented on Flower Street last year during the repair stages for the Expo Line.
The City touted the program as a success, indicating that ⅓  of bus riders experienced a 5-minute reduction in travel times.
However, in reality, the data reports that only marginal improvements were made. On average during rush hour, the Silver Line bus lane reduced travel times by 3 minutes, while the 860 Line saw a reduction of 2 minutes.
Moreover, the success of bus lanes relies on general public complies  - which is highly unlikely. Currently, Los Angeles has another bus lane located on Wilshire Boulevard that severely lacks enforcement, as police hold such infractions as low priority.
Likely, the new bus lanes in Downtown LA will face similar enforcement issues. An already overworked police force, with significant budget cuts, would not prioritize these lanes.
And bus lanes won't increase ridership
Furthermore, as policy analyst Alfonso Directo reasons, negligible improvements in bus speeds won't increase ridership. In particular, a Downtown LA commuter will have to consider these external factors that slow bus speeds:
Transfers
Connections
Frequent bus stops.
bus drivers' subjective attempts to stop for more passengers
bus drivers aiding those with wheelchairs onto the bus.
In spite of marginal improvements, bus lanes do not resolve these issues. While lanes can be useful, broader changes to public transit will be necessary.
How bus-only lanes will impact your building and what you can do
Certainly, bus lanes will create long-term implications for property owners. Since these lanes remove an additional traffic lane, they will exacerbate traffic around dense business corridors. In the process, it will make consumers less willing to frequent these corridors.
Additionally, these long commutes will also deter many potential tenants, which could be a factor affecting property value.
To make your voice heard, we urge you to take support FASTLink, a transportation advocacy organization that works closely with BOMA/GLA. By taking their survey, you'll ensure that we have a seat at the table in deciding how transit will be planned in Downtown Los Angeles.
Through a collective effort, we can let our representatives know why protecting our roads is of the utmost importance.
Subscribe to Our Newsletter