El Segundo Fire Chief Deena Lee Retires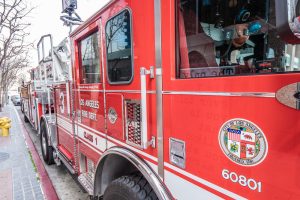 After 20 years of serving the public, El Segundo Fire Chief Deena Lee has officially announced her retirement. 
She was appointed to chief in October 2021 and became the first female fire chief in the South Bay. 
Lee's Career 
Chief Lee's career in the public sector began in the City of La Habra Heights, where she was a volunteer firefighter over 20 years ago. 
In 2003, she officially became a firefighter at the El Segundo Fire Department and was promoted to fire captain just four years later. She was promoted in 2019 and became the first fire battalion chief in the South Bay region. Following that, she became the acting fire chief in July 2021 and was officially appointed to the position that October. 
Lee is also a highly certified firefighter with over 100 fire service certifications including Urban Search and Rescue, Chief Fire Officer, Firefighter I and II, and Fire Officer. In addition, she earned a bachelor's degree in fire science from Columbia Southern University and became an instructor at El Camino Fire Academy for over 17 years. 
Outside of fire service, Chief Lee made an emphasis to be active in the El Segundo community. She often volunteered at the El Segundo Library and presented to the local Boy and Girl Scouts. 
Lee was also a role model in the community, volunteering with the Women's Fire Alliance, an organization dedicated to empowering women in the fire service. She furthered that by launching "Fired up? Girls Empowerment Camp" to inspire girls to begin a career in firefighting. 
To learn more about Chief Deena Lee's retirement, click here. 
BOMA/GLA congratulates Chief Deena Lee on her long career and wishes her well in retirement. 
New Fire Chief
Following the departure of Chief Deena Lee, the El Segundo City Council has appointed Robert Espinosa as interim fire chief. 
While Espinosa has been retired since October 2018, he comes with over 35 years of experience in fire service. In addition, he has served a combined ten years as fire chief at two different departments. 
Chief Espinosa will remain as interim chief of the El Segundo Fire Department until recruitment for a new one is completed or on November 15, 2023. 
Until then, keep up with BOMA on the Frontline for the latest news in the Greater Los Angeles area. 
Subscribe to Our Newsletter