Culver City Votes to Add Second Car Lane to Downtown Corridor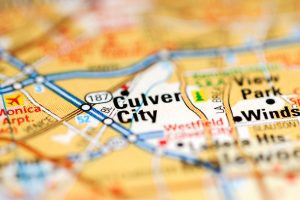 The Culver City City Council voted to add a second car lane to the area's downtown corridor by combining bus and bike lanes into one. 
This comes after proponents of MOVE Culver City called for an expansion of the project. 
What is MOVE?
MOVE Culver City is a project that prioritizes the mobility of people versus cars. It is designed to increase the ridership of buses, increase cycling and walking, and help emergency service vehicles. 
The project launched in late 2021 and changed the downtown area by adding bike lanes and bus-only lanes. It reduced car lanes to just one in each direction. 
For its intended purposes the project has primarily been a success. According to the post-pilot report, since MOVE, Culver City's downtown corridor has seen a: 
38% increase in CityBus ridership 

57% increase in cycling Activity 

68% increase in micro-mobility trips (scooters)

-4 minute decrease in CityBus travel time 

8% increase in pedestrian activity 
In the Culver Boulevard and Main Street intersection, they saw the biggest success with a: 
115% increase in cycling activity 

36% increase in pedestrian activity
Proponents of the program hoped to expand the program to increase individual mobility and lower transportation emissions. 
The Vote
Despite increases in public transportation ridership and cycling, the Culver City city council voted to take away a huge component of the project. 
In a 3-2 vote, the council voted to add a second car lane, eliminating the bike-only lane. As a result, bikes and buses will share a single lane.
City Councilmember Dan O'Brien stated he voted yes due to constituent concerns over the increase in traffic. However, with a re-evaluation period of two years, he says he hopes that they can go back to one lane for cars. 
Data backs up his statement as the post-pilot report found there was a 10% increase in vehicular traffic. However, there were times traffic increased by as much as 35%. 
With the city expected to re-evaluate adding a second car lane in two years, there will likely be plenty of data for them to decide whether it was a good decision. 
For the latest news in the Greater Los Angeles area, keep up with BOMA on the Frontline. 
Subscribe to Our Newsletter