A Recap of Mayor Bass' State of the City Address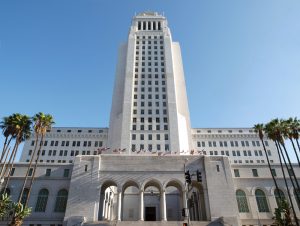 Los Angeles Mayor Karen Bass has given her first State of the City Address where she touched on several issues affecting the city. 
In her speech, she pledged to create a "new L.A." while speaking on homelessness, public safety, and other topics. 
Below is a recap of what was said in Monday's State of the City Address. 
Homelessness
The homelessness crisis has been Mayor Bass' signature issue in the first four months of her administration. In Monday's address, she expanded her goals on her flagship program, "Inside Safe." 
She announced her budget proposal, which includes an "unprecedented" $1.3 billion investment in homelessness services and housing. The budget will have to be approved by the LA City Council. 
In addition, she proposed an expansion to Inside Safe by asking for $250 million going directly towards it. The mayor hopes to use the money to purchase hotels and motels to turn into public housing, rather than solely master leasing them. 
So far, the program has moved 1,000 people experiencing homelessness indoors, a far cry from the 17,000 she pledged in her first year in office. Albeit, there is a lot of time for her to accomplish this. 
Public Safety 
Following her announcements on investments in housing and homelessness, Bass turned to public safety and her plans with the Los Angeles Police Department. She plans to rebuild the LAPD, along with expanding some of its services. 
With the department losing personnel, the Mayor fears that it might fall below 9,000 officers, which would be the lowest since 2002. To combat this, she will launch a hiring campaign that will provide financial bonuses for new recruits and the city employees that find them. 
In addition to finding new recruits, she hopes for a program that can re-hire retired personnel and bring in civilians so officers can get back on the street. 
Bass also announced her idea of the Mayor's Office of Community Safety, an around-the-clock mental health crisis unit that would provide unarmed responses. 
Although Bass also spoke on other issues such as climate change, Metro ridership, the port, and Graffirit, her main points were on homelessness and public safety. 
For the latest news in Greater Los Angeles, keep up with BOMA on the Frontline.
Subscribe to Our Newsletter