LA City Council District 6 Headed for Runoff Election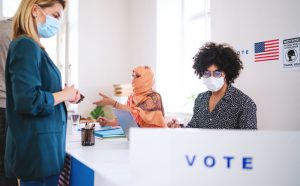 LA City Council District 6's special election occurred last week and will likely lead to a runoff. Although the final count is expected to take a few more days, Imelda Padilla and Marisa Alcaraz are the top two vote-getters as of today. 
The seat became available following former City Council President Nury Martinez's resignation last fall. 
Runoff Election
Imelda Padilla and Marisa Alcaraz are the most likely candidates to advance to the general election in just a few months. So, who are they? 
Padilla is a community activist who has served on various initiatives and job positions in Los Angeles County. Her top priorities are: 
Homelessness

Public Safety 

Economic Development 

Built Environment 

Parks & Rec

Libraries 

Youth Programs 
Alcaraz is the deputy chief of staff for City Councilman Curren Price and has advocated for several policies in Los Angeles as a member of his team. Her top priorities are: 
Homelessness 

Affordable Housing 

Public Safety 

The Environment 

Higher Paying Jobs 

Better City Services 

Reforming City Hall 
Special interest groups were well-invested in this race, spending nearly $300,000 on candidates. Most of that money went to Padilla and Alcaraz. 
Despite more votes expected to be counted in the coming days, it will be an uphill battle for third place Marco Santana. He is currently down nearly 300 votes with only a handful of ballots left to be counted.  
Regardless, the results will be certified on April 14th with the runoff to take place in the June 27 general election. 
For the latest news in Greater Los Angeles, keep up with BOMA on the Frontline. 
Subscribe to Our Newsletter