LA County to Remove 900 RV Encampments within Three Years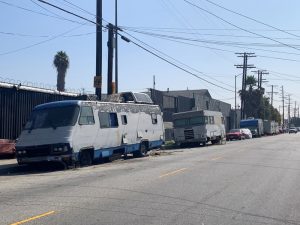 RV encampments are one of the most common ways that homeless Angelenos take shelter, especially in the past few years. 
However, issues such as traffic safety, environmental and public health hazards, interference with public works projects, and inoperability have caused the county to begin cracking down on it. 
In addition, public safety concerns and the increase in the crime rate have sparked a new plan by the LA County Board of Supervisors to remove 900 RVs over the next three years. 
What's in the Plan? 
On September 13th, The LA County Board of Supervisors unanimously approved a plan to build on the county's commitment to dealing with homelessness. 
Over the next three years, they plan on connecting 1,500 people living in RVs to permanent and safer solutions. 
The three-year plan will try to help 500 people each year and rid the streets of at least 900 inoperable RVs. 
The motion grants a 120-day period for a comprehensive plan including a budget so a more detailed version of the program will arrive in the coming months. 
Why Now? 
Aside from the threats to public safety, there has been a significant rise in the use of RVs as shelter in the county with over 11,000 people estimated to use them.
Earlier this year, supervisors asked their staff to make a report on the problem, with information including crime rates, locations, and more. 
Residents have grown tired of the vehicles parked in their neighborhood and the lack of enforcement around the issue, especially after the moratorium on towing illegally parked RVs expired in April. 
Keep up with Boma on the Frontline to learn about the detailed version of this plan once it's released.
Subscribe to Our Newsletter