How Technology is Changing Disaster Management
It was not that long ago that disaster management professionals handled crises primarily through landlines and press conferences. Thankfully, over the past 10 years, technology has redefined global emergency management and disaster communications. One of the first national disasters to heavily rely on technology, according to Federal Emergency Management Agency (FEMA), was Hurricane Sandy, as users sent more than 20 million Sandy-related tweets.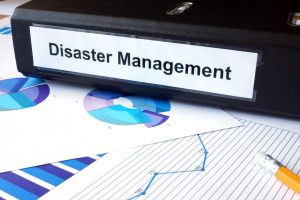 Since people have embraced mobile technologies, it's increasingly important for disaster management professionals to adopt a social media strategy as well as the ability to use multiple forms of technology to communicate and connect with an increasingly networked population. What's more, building owners and managers as well as members of the public, should take advantage of the many ways technology can help them prepare for, survive, and recover after a disaster.
TECHNOLOGY AND DISASTERS
The American Red Cross
The American Red Cross offers free mobile apps that put lifesaving information at the user's fingertips. The apps give people instant access to more than 35 customizable emergency weather alerts, as well as safety tips and preparedness information for 14 different types of emergencies and disasters. The Emergency App contains an "I'm Safe" feature, which helps people use social media to let loved ones know they are okay following an emergency.
Disaster Apps
While it would be virtually impossible to list every available disaster app, here are a few noteworthy options, available on Google Play as well as the Apple App Store: Centers for Disease Control & Prevention (CDC), FEMA, QuakeFeed, and Storm Distance Tracker.
Facebook
Facebook offers a natural disaster page, which is set up so that people can check on loved ones, get updates about the developing situation, and look for information about how to help. Disaster Response on Facebook highlights tips, news, and information on how to prepare for, respond to and recover from natural disasters. Facebook users who like and follow the page can stay up to date and connected with affected communities around the world. They can also donate with the "Donate Now" call-to-action button, so nonprofits can connect with people who care about their causes and encourage them to contribute.
Twitter
Twitter has emerged as a legitimate means of emergency communication for coordinating disaster relief. A 2015 study, What to Expect When the Unexpected Happens: Social Media Communications Across Crises, focused on 26 different crisis situations (such as earthquakes, floods, bombings, derailments and wildfires) for two years. The event which obtained the most Twitter attention at the time of the study was the Boston Marathon bombings, with 157,500 tweets. What's more, Twitter Alerts provide trusted sources with a platform to disseminate accurate information to concerned parties in real time, and for those people to offer immediate feedback about the impact and hierarchy of needs relative to the associated disaster.
OneEvent
OneEvent is an algorithm developed by a small startup in Wisconsin. For a monthly subscription fee, OneEvent detects household disasters like fires and floods up to 20 minutes before they happen. The software-based approach uses sensors to monitor things like heat and humidity in key areas of the subscriber's home. If things start to deviate from the norm due to a leaky pipe or a hot oven, the system will catch it, let the user know, and learn from the situation.
Online Fire Life Training Systems
Online Fire Life Training Systems provide subscribers with access to information about emergency and disaster prevention, management and recovery. These systems allow property management companies to manage one site or an entire portfolio, with all users in the same system. Subscribers get access to training for building occupants, floor wardens, and fire safety directors. All user training and testing is recorded. Building-specific information is sent to first responders for immediate access during emergencies.
This guest blog post was provided by Kimber Westmore, Senior Client Safety Manager, Allied Universal Fire/Life Safety Training.  Kimber is an active member of the BOMA/GLA Security and Emergency Preparedness Committee. She can be reached at kimber.westmore@aus.com. 
Subscribe to Our Newsletter