Being Green: Tips to Stay on Top of Recycling Regulations
We all want to do right by the planet, but it can sometimes feel like new recycling regulations are going into effect every day across the country. Recycling programs, such as RecycLA, are aimed at improving waste and recycling but along with it come hefty fees and logistical challenges that make it difficult to navigate. Instead of being caught red-handed holding the trash when new regulations hit, here are some tips to streamline your building's recycling program.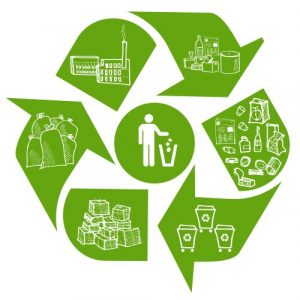 View Legal Compliance as Minimum Standards
Too often recycling is viewed as a necessary evil; something management must do to avoid fines. Recycling, however, has many benefits to the environment such as the reduction of greenhouse gases and the preservation of natural resources such as trees, metal, and water. By embracing recycling and developing a well-managed recycling program your building can boost its image, attract great tenants who often seek buildings with sound sustainability practices, and improve your bottom-line by reducing costs. Make every effort to ensure your recycling program exceed the minimum standards.
Track Waste
This is the first step in creating a comprehensive recycling program. The EPA offers a waste management tool in their ENERGY STAR Portfolio Manager to help you get started tracking. They offer an accompanying quick start guide and training site as well. The Portfolio Manager allows you to view the waste profile of one building or compare a portfolio of buildings from within a secure online environment. If you are just getting started, conducting an audit of your waste with your waste management provider can be the best tool for determining what waste products your building is producing.
Work with Tenants
You cannot do this alone. You are dependent on the participation of the businesses and tenants of your building for your recycling programs to be successful. This means running educational and informational campaigns so that tenants know what to recycle and how. Giving them the details of the program and how and why it works will encourage individual members of a building community to participate. You can also plan activities in your building such as recycling drives or donating to food waste services such as Good Food LA.
Assess and Improve the Efficiency of the Waste Management System
One major area where there can be wasted costs is by using inaccurate trash bin sizes. If your waste management partner is collecting half-empty trash bins, you are in effect paying to have nothing collected. Make certain that the bins are sized based on your actual needs and if waste amounts are improved through recycling efforts, make certain pick-up frequency and bin size reflects this.
Prioritize Reducing, Reusing and Donating
Overall waste can be minimized by reducing what goes out and reusing or donating materials rather than throwing them out. This is more effective than recycling and reduces the overall output that goes into both waste and recycling.
Facing fines is never fun, but by implementing a more efficient waste management program that places a high priority on recycling, you can not only avoid fines you can save additional money in the process.
RecycLA offers a 24-hour customer care phone line at 1-800-773-2489. Here are some helpful links so you can the most out of the program:
Here are some additional resources recommended by the EPA to improve your recycling and waste management programs:
Subscribe to Our Newsletter