Technology Solution that Ensures a Safer Re-Entry for California's Workplace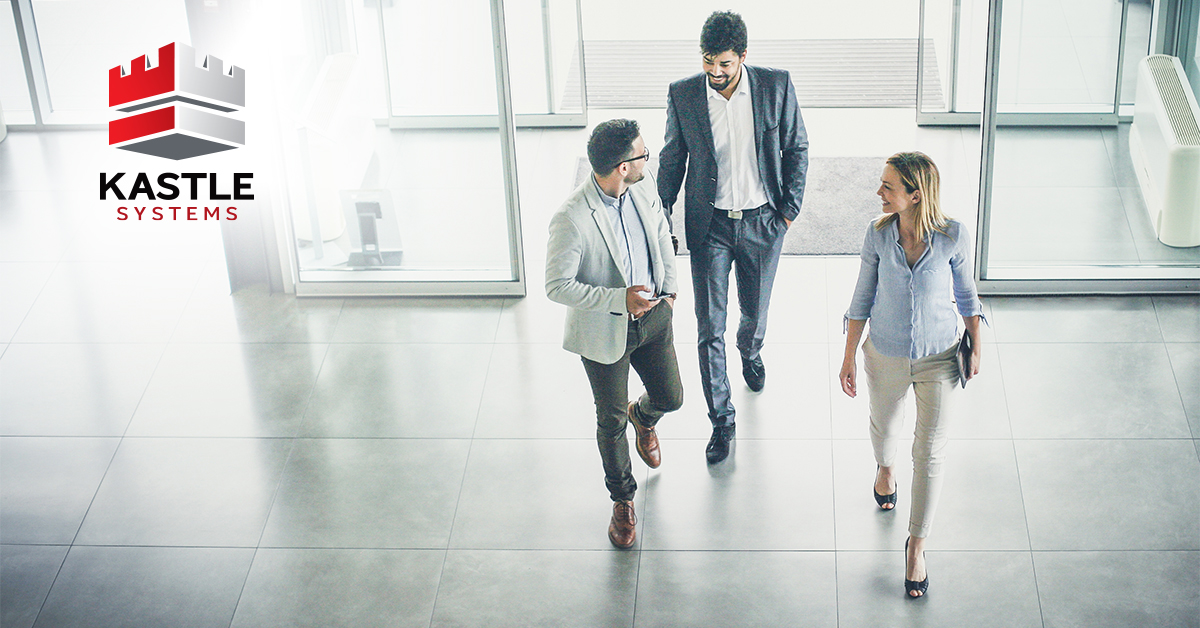 Governor Gavin Newsom made it official, recently lifting most of California's pandemic restrictions; Golden State residents can now go back to normal as businesses and offices re-open. Welcome back, California!
But while COVID-19 restrictions become a thing of the past, questions remain about how to make a safe return to offices after a year when many were working from home. For BOMA members who want to ensure a safe and healthy return for their tenants, Kastle Systems® has developed a new access control approach that configures existing technology to provide a more secure way for workforce reentry with confidence.
This innovation, KastleSafeSpaces, provides touchless workplace access in key traffic areas, ensures proper screening for anyone showing signs of illness, and monitors and controls occupant density and contact tracing. Leveraging Kastle's existing access control platform, KastleSafeSpaces is a creative solution for landlords and their tenants to employ simple access control to enforce the security and health protocols they need.
KastleSafeSpaces addresses the major shifts happening within buildings with five operational pillars: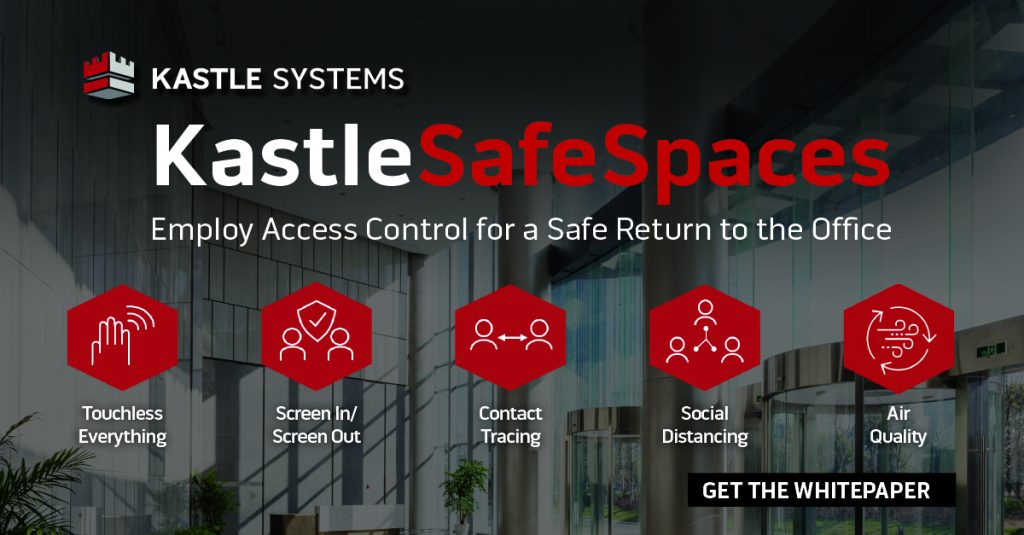 Pillar One: Touchless Everything
Touchless entry to the office is the new workplace standard. Existing technology, such as the KastlePresence® app, made wireless, touchless access possible. KastleSafeSpaces leverages the mobile app's capabilities with hands-free access to doors, turnstiles, elevators, security card readers, visitor kiosks and even parking ticket vending machines.
Pillar Two: Screen In / Screen Out
Onsite screening, considered the most important factor to inspire tenants' confidence in returning to work, prioritizes the screening of employees, vendors and visitors. KastleSafeSpaces fully integrates wellness screening protocols using the KastlePresence app and KastleVisitor® management system to enable staff and visitors to self-administer the necessary daily screening processes to identify infected individuals or those presenting symptoms and enforce denial of access that day.
Pillar Three: Contact Tracing
KastleSafeSpaces utilizes the existing access control system to simplify contact tracing by mandating credential use for both entry and exit traffic for buildings, floors, tenant office suites and common areas. To be most effective, both entry and exit readers are required to track the presence of individuals who may later learn they were infected as well as those who have come in contact with them.
Pillar Four: Capacity Monitoring
Minimizing occupant density and staggering work schedules can encourage greater distancing between occupants simply by enforcing greater space available per person to maximize safety. KastleSafeSpaces reinforces social distancing by using data and technology-driven reminders to monitor and manage real-time space occupancy, supplementing physical guides. Real-time monitoring and technology can enhance these efforts by controlling access and signaling managers when occupancy thresholds are exceeded.
Pillar Five: Air Quality
Health authorities have stressed the risk of airborne contaminants in the workplace as evidenced by the wide adoption of mandated facemask wearing during the pandemic. Kastle has introduced air management as a new component of KastleSafeSpaces, using technology to detect and filter away potential harmful airborne material in the workplace.
Re-opening the offices safely is critically important. Large office buildings, particularly those in dense areas, will face unique challenges in reopening because of their high-touch spaces, including doors, sign-in counters, elevator buttons, and restrooms, as well as spaces where groups of people congregate.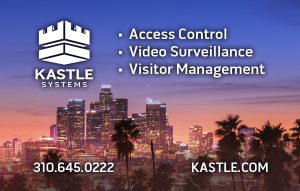 Tackling each of these concerns will require an integrated approach that employs touchless physical access control, video analytics technology and thermal imaging that integrates with virus-screening and contact tracing. KastleSafeSpaces is the resource needed in taking a new, whole-building approach to protecting the health and well-being of workers and building tenants.
Want to know more? If you are commercial property managers, facility management professionals, HR office managers planning to reopen your workplace, contact us at info@kastle.com or visit https://www.kastle.com to talk through how to best protect your workplace.
This guest blog post was provided by Scott Carpenter, Director of Managed Security Sales in Southern California for Kastle Systems. Visit https://www.kastle.com to learn more about their services.
Subscribe to Our Newsletter