COVID-19 Has Changed the Deadlines for Energy Benchmarking
Building owners throughout the state are required to submit periodic reports regarding their energy and water consumption. Due to the COVID-19 pandemic, the state is considering a postponement while the City of Los Angeles has officially suspended the deadlines.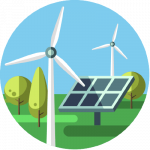 AB 802
The June 1 energy benchmarking deadline has not yet been formally postponed. However, it may be pushed back one month to July 1, 2020.
AB 802 will only apply to buildings with less than 50,000 square feet.
No additional audits or retro-commissioning are required.
City of LA Existing Building Energy and Water Efficiency Ordinance (EBEWE)
The June 1 energy and water benchmarking deadline has been suspended until further notice. You can find out more information here.
EBEWE only applies to buildings with less than 20,000 square feet.
Buildings with an Assessor Identification Number (AIN) ending in "0" had an energy and water audit and retro-commissioning deadline of June 2021. This deadline has been postponed until further notice; owners will be given at least 6 month notice prior to re-establishing the due date.
BOMA/GLA will continue to track the state AB 802 requirement and will notify members when and if the state makes a decision on postponement.
We are here for you in this uncertain time. 
Click here to find a comprehensive guide on what YOU need to know regarding COVID-19, as prepared by BOMA International.
Stay safe, stay healthy.
Subscribe to Our Newsletter